'really excellent … he takes very real things, normal things that happen in life, and he writes about them in a way that makes you think afresh about them'
(Paul Jones, BBC Radio 2)

'one of the British Isles' great blues singers and guitarists …. totally and absolutely original' '
(Mike Harding)
The official site for Mark Harrison
Mark Harrison's unique songs are attracting a lot of attention and he has established a growing reputation for the individuality of his music. He takes elements of blues and folk, adding his own twist to produce something totally original. His music, with its memorable tunes and strong and compelling rhythms, has been going down very well with audiences of all kinds and ages.
'one of the top blues men in the UK with a big following and rightly so'
(Frank Hennessy, BBC Radio Wales)
'wonderful rootsy blues ... innovative'
(Jazz FM)
Mark is doing something fresh and different, tapping into the timeless quality of the early blues to produce music totally relevant to the present day. His highly distinctive songs cover a wide range of non-standard topics. They all have something to say or a story to tell. They'll make you move, make you think, make you smile.
'singular lyrics ...an original take on song writing'
(Blues in Britain)
'Mark Harrison has been creating something of a stir ... bringing a modern outlook to a traditional style, he is building a loyal and wide fan base'
(Blues Matters)
Mark's live shows are well-known not only for the music but also for his introductions and explanations of the songs, and audiences frequently comment on how big a part these play in their enjoyment of the shows. Delivered in a manner often described as 'wry' and 'dry', these mark him out even more as a unique artist.
'Between the songs he had everyone laughing their heads off, I've never seen that kind of level of interaction from an audience anywhere'
(Ian McHugh, Blues Is The Truth)
Mark is a thrilling, rhythmic finger-picker and slide player, with a very distinctive style and sound. He plays a 1934 National resonator guitar and a 12-string guitar.as well as singing. He has been described as 'one of the UK's foremost acoustic blues performers'.
'his delicate fingerpicking and slide work is a joy'
(The Blues Magazine)
'Harrison's got a fine style on that resonator guitar ... he's certainly got the licks to count.'
(HiFi Plus magazine)
---
The Albums
Mark's five albums, Turpentine, On The Chicken Sandwich Train (live), The World Outside, Crooked Smile and Watching The Parade, have been unanimously acclaimed across a wide range of areas of the music world, with fantastic reviews in a large number of well-regarded print and online media in the UK, the US and Europe, and airplay on a very large number of radio shows in the UK (including BBC) and around the world.
'rich and charming songs …. gasp-inducing virtuosity …. superb ideas'
(Classic Rock The Blues)
'combining early acoustic blues and folk influences with a very modern lyrical perspective and a contagious energy and good humour to create something new and highly enjoyable'
(American Blues Scene)
Mark's albums all consist entirely of original songs on all manner of subjects, and top quality production and musicianship. In addition, they include lyrics booklets and stunning and much-acclaimed artwork by WeareFrank.
'This sumptuously packaged album'
(Blues in Britain)
---
Live performances
Based in London, Mark tours widely, playing at festivals, arts centres and a wide variety of other top venues.
Festival appearances include a sell-out headline concert at Celtic Connections, Jazz FM Love Supreme Festival, Bearded Theory, Lakefest, and top folk and blues festivals such as Ealing Blues, Maryport Blues, and Purbeck Folk.
'With his gifted finger-picking and slide guitar techniques, Harrison has developed a distinctive style, supported by a group of versatile musicians'
(R2 magazine)
'it's easy to see why Mark's music has been so popular with audiences of different persuasions, not just blues fans'
(FATEA)
---
PRESS
Mark has been featured with interviews and articles in a number of influential magazines, including R2 magazine, Blues in Britain, Spiral Earth and Blues Matters.
'unafraid to take risks when it comes to creating his personal take on blues and folk music'
(R2 magazine)
For press enquiries please contact hello@markharrisonrootsmusic.com
---
AWARDS NOMINATIONS
Mark has received numerous nominations in the British Blues Awards, including for Songwriter, Acoustic Artist and Best Original Song.
'a master singer, songwriter and guitarist who really should be a household name'
(American Roots UK)
'his curiously timeless songs remain steeped in the spirit of the Mississippi blues'
(Messenger Newspapers)
---
FILM
A film of Mark's song Panic Attack was made by a director who works for Ridley Scott's organisation - this film was showcased at the Cannes Film Festival, where it got a great reception.
---
RADIO
Radio sessions have included various for the BBC, one-hour special guest appearances on Jazz FM's Blues and Boogie show and sessions for many other well-respected shows.
---
The Band
Mark plays in various line-ups. His top-class band consists of some of the UK's most highly regarded roots musicians and together they make a unique sound. With a very flexible set-up, he generally performs as solo, duo or trio, with:
'he has inspired a great band of young musicians and displays the right mix of tradition, creativity and musical excellence'
(The Blues Hour)
Mark and the band are very much going places and fast acquiring a reputation for the originality of the songs and the unique nature of their sound.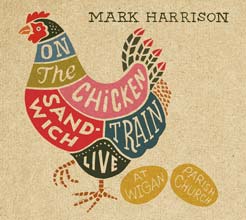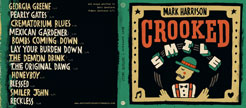 TWITTER
---
Tweets by @mharrisonmusic